Adrian Pasdar (American) began his professional life on a college football scholarship. He may have never made it to the world of acting if not for sustaining a serious injury in his freshman year that left him with facial scarring and in a wheelchair. His determination shone through and after intensive physical therapy, he got out of the wheelchair and stepped into an acting career.
He has worked in mainstream film and television, but also supports those who are in the independent sector, taking roles that challenge and inspire him. He is a graduate of the Lee Strasberg Theatre Institute in New York.
I first saw Adrian in Mysterious Ways, a series about the investigation of miracles. I was immediately captured by his vulnerability and presence. He brings great depth to this role, and makes the character truly enjoyable to watch.
As an actor: His gentleness, his sensitivity, his ability to play his roles truthfully and without apology.
As a person: His determination, his positive outlook, his lack of pretentiousness.
Actor Filmography
Crossing the Line (2002) (TV) .... Eric Harrison
"Mysterious Ways" (2000) TV Series .... Professor Declan Dunn
Big Day, The (1999/I) .... Tim
Desert Son (1999) .... Driver
Mutiny (1999) (TV) .... Lt. Maravich
Perfect Getaway, The (1998) (TV) .... Colt Erikson
Ties to Rachel (1997) .... Boxer
"House of Frankenstein 1997" (1997) (mini) TV Series .... Detective Vernon Coyle
Love in Another Town (1997) (TV) .... Jake Cantrell
Brother's Kiss, A (1997) .... Doper
Wounded (1997) .... Hanaghan
"Feds" (1997) TV Series .... C. Oliver Resor
Touched by Evil (1997) (TV) .... Jerry Braskin
Pompatus of Love, The (1996) .... Josh
"Profit" (1996) TV Series .... Jim Profit
Slave of Dreams (1995) (TV) .... Joseph
Mother's Gift, A (1995) (TV) .... William Deal
Last Good Time, The (1994) .... Eddie
Mother, The (1994) (TV) .... George
Shadows of Desire (1994) (TV) .... Jude Snow
Killing Box, The (1993) .... Capt. John Harling
Carlito's Way (1993) .... Frankie
Just Like a Woman (1992) .... Gerald Tilson/Geraldine
Grand Isle (1991) .... Robert Lebrun
Shang Hai yi jiu er ling (1991) .... Dawson
Lost Capone, The (1990) (TV) .... Ricard Hart/Jimmy Capone
Torn Apart (1990) .... Ben Arnon
Vital Signs (1990) .... Michael Chatham
Cookie (1989) .... Vito
Big Time (1989) (TV)
Made in USA (1988) .... Dar
Near Dark (1987) .... Caleb Colton
Solarbabies (1986) .... Darstar
Streets of Gold (1986) .... Timmy Boyle
Top Gun (1986) .... Chipper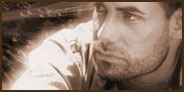 Director - filmography
Cement (1999)
Notable TV Guest Appearances
"Twilight Zone, The" (2002) playing "Andrew Lomax" in episode: "Dream Lover" (episode # 1.4) 25 September 2002
"Touched by an Angel" (1994) playing "Edward Tanner" in episode: "The Spirit of Liberty Moon: Part 1" (episode # 4.26) 17 May 1998
"Touched by an Angel" (1994) playing "Edward Tanner" in episode: "The Spirit of Liberty Moon: Part 2" (episode # 4.27) 17 May 1998
"Outer Limits, The" (1995) playing "Tanner Brooks" in episode: "In the Zone" (episode # 4.5) 20 February 1998
http://us.imdb.com/Name?Pasdar,+Adrian (his listing on the IMDB)
http://www.pax.tv/shows/mystways/ (official Mysterious Ways site)
Photos copyright © Paxson Communications Corporation
<< ACTORS LIST

intro
~ why? ~ the actors ~ faq ~ what's new ~ links ~ search
awards ~ survey ~ guest book ~ webrings ~ contact