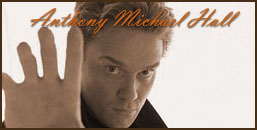 Anthony Michael Hall (American) is almost unrecognisable from his days as the designated geek in teen flicks such as "Sixteen Candles" and "The Breakfast Club", when he was one of the group of out-of-control actors known as The Brat Pack. Now in his thirties and sober, Anthony is forging ahead in a career that is finally going from strength to strength.
Like many of his fellow Brat Packers, Anthony began drinking in his early teens. By age 18, alcohol had taken over his life. He entered rehab and became fully sober by 1990. This burden and his eventual conquering of it, has matured him to the point where he carries a depth greater than his years. This is what makes him beautiful.
In Steven King's The Dead Zone, Anthony plays the role of a man who wakes from a coma to discover that his life has completely changed forever. His fiance has married someone else, he is unemployed and he can now access psychic abilities, through his brain's dead zone.
This could have come over as another shallow Hollywood grab for the current interest in the supernatural, but Anthony's sensitive portrayal of a man who essentially has to relearn who he is and how he fits into the world, makes it compelling viewing.
As an actor: His depth, his vulnerability, his readiness to use his experience on screen.
As a person: His determination, his ambition.
Actor Filmography
Funny Valentine (2002) .... Josh
"Dead Zone, The" (2002) TV Series .... Johnny Smith
All About the Benjamins (2002) .... Lil J
Hitched (2001/I) (TV) .... Ted Robbins
Hysteria: The Def Leppard Story (2001) (TV) .... Mutt Lange
61* (2001) (TV) .... Whitey Ford
Freddy Got Fingered (2001) .... Mr. Dave Davidson
Caveman's Valentine, The (2001) .... Bob
Photographer, The (2000) .... Greg
Happy Accidents (2000) .... Famous Actor
Dirt Merchant (1999) .... Jeffry Allen Spacy
Revenge (1999/I) .... Brian Cutler
Touch of Hope, A (1999) (TV) .... Dean Kraft
2 Little, 2 Late (1999) .... Mr. Burggins
Pirates of Silicon Valley (1999) (TV) .... Bill Gates
Blunt (1998) (scenes deleted) .... Cameo Appearance
Killing Grounds, The (1997) .... Art Styles
Cold Night Into Dawn (1997) .... Eddie Rodgers
Trojan War (1997) .... Bus Driver
Grave, The (1996) .... Travis
Exit in Red (1996) .... Nick
Hijacked: Flight 285 (1996) (TV) .... Peter Cronin
Bucket of Blood (1995) (TV) .... Walter
Ripple (1995)
Texas (1995) (V) .... Yancey Quimper
Hail Caesar (1994) .... Julius Caesar McMurty
Six Degrees of Separation (1993) .... Trent
Who Do I Gotta Kill? (1992)
Into the Sun (1992) .... Tom Slade
Gnome Named Gnorm, A (1992) .... Casey
Whatever Happened to Mason Reese (1990) (voice)
Edward Scissorhands (1990) .... Jim, Kim's Boyfriend
Johnny Be Good (1988) .... Johnny Walker
Out of Bounds (1986) .... Daryl Cage
"Saturday Night Live" (1975) TV Series .... Various (1985-1986)
Weird Science (1985) .... Garry Wallace
Breakfast Club, The (1985) .... Brian Ralph Johnson
Sixteen Candles (1984) .... The Geek (Farmer Ted)
Vacation (1983) .... Russell 'Rusty' Griswold
Running Out (1983) (TV) .... Kylie
Six Pack (1982) .... Doc
Rascals and Robbers: The Secret Adventures of Tom Sawyer and Huck Finn (1982) (TV) .... Huck Finn
Gold Bug, The (1981) (TV) .... Boy
Jennifer's Journey (1979) .... Michael
Producer - filmography
Funny Valentine (2002) (co-producer)
"Dead Zone, The" (2002) TV Series (co-producer)
Director - filmography
Hail Caesar (1994)
Notable TV Guest Appearances
"Chicken Soup for the Soul" (1999) playing "Chris/Dr. Gigglebones" in episode: "Billy" 2 November 1999
"Crow: Stairway to Heaven, The" (1998) playing "Officer Reid Truax" in episode: "Dead to Rights" (episode # 1.21) 14 May 1999
"Touched by an Angel" (1994) playing "Thomas Prescott" in episode: "Full Circle" (episode # 5.22) 25 April 1999
"Poltergeist: The Legacy" (1996) playing "John Griffin" in episode: "Debt of Honor" (episode # 3.8) 13 March 1998
"Diagnosis Murder" (1993) playing "Dr. Johnson" in episode: "Looks Can Kill" (episode # 5.6) 23 October 1997
"Jamie Foxx Show, The" (1996) playing "Tim" in episode: "Do the Write Thing" (episode # 2.6) 12 October 1997
"Murder, She Wrote" (1984) playing "Les Franklin" in episode: "What You Don't Know Can Kill You" (episode # 12.22) 5 May 1996
"Touched by an Angel" (1994) playing "Thomas Prescott" in episode: "Flesh and Blood" (episode # 2.22) 4 May 1996
"Deadly Games" (1995) playing "Chuck Manley" in episode: "The Camp Counselor: Part 2" (episode # 1.6) 10 October 1995
"NYPD Blue" (1993) playing "Hanson Riker" in episode: "Travels with Andy" (episode # 2.13) 14 February 1995
"Tales from the Crypt" (1989) playing "Reggie Skulnick" in episode: "Creep Course" (episode # 5.9) 10 November 1993
http://us.imdb.com/Name?Hall,+Anthony+Michael
(his listing on the IMDB)
http://www.usanetwork.com/series/thedeadzone/
(the Official Dead Zone website)
http://members.fortunecity.com/okielady
("TBC" - Fan site)
Photos copyright © USA Networks
<< ACTORS LIST

intro
~ why? ~ the actors ~ faq ~ what's new ~ links ~ search
awards ~ survey ~ guest book ~ webrings ~ contact