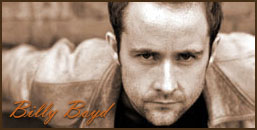 Billy Boyd (Scots) shot to fame as "Peregrin Took" in Peter Jackson's Lord of the Rings trilogy of films. A graduate of the Royal Scottish Academy of Music & Drama, his background is very much based on stage work. Which I found nicely ironic, as he first came to my attention in Coming Soon - a television mockumentary set around a touring alternative performance troup, in the role of "Ross", the enthusiastic lighting wiz.
Billy has a great gentleness and wonderful comic timing. He has the sort of presence that makes you sit up and notice him, yet his performances are so generous that you feel he is a team player, only interested in the role and how it fits with the others on screen.
This extends into his daily life, with his supporting programs for young actors in the Glasgow area, and his belief in encouraging the next generation of talent.
Billy is an actor who you look forward to seeing on screen. He has a great talent and a generosity of spirit that shines.
As an actor: His empathy, his generosity, his presence.
As a person: His lack of self-absorption, his belief in supporting others.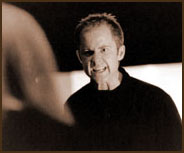 Actor Filmography
Lord of the Rings: The Return of the King, The (2003) .... Peregrin 'Pippin' Took
Master and Commander: The Far Side of the World (2003) .... Barrett Bonden
Lord of the Rings: The Two Towers, The (2002) .... Peregrin 'Pippin' Took
Sniper 470 (2002) (TV) .... The Gunner
Lord of the Rings: The Fellowship of the Ring, The (2001) .... Peregrin 'Pippin' Took
Julie and the Cadillacs (1999) .... Jimmy Campbell
Coming Soon (1999/II) (TV) .... Ross
Urban Ghost Story (1998) .... Loan Shark
Soldier's Leap, The (1998) .... Postman
Taggart: Dead Mans Chest (1996) (TV) .... Jamie Holmes
Notable TV Guest Appearances
"Still Game" (2001) playing "Man in Train Station" in episode: "Faimly" (episode # 1.4) 27 September 2002
"Saturday Show, The" (2001) playing "Himself" (episode # 1.19) 26 January 2002
"Richard and Judy" (2001) playing "Himself" (episode # 1.11) 10 December 2001
"SM:TV Live" (1998) playing "Himself" 12 August 2001
http://www.billyboyd.net/ (his official site)
http://us.imdb.com/Name?Boyd,+Billy (his listing on the IMDB)
<< ACTORS LIST

intro
~ why? ~ the actors ~ faq ~ what's new ~ links ~ search
awards ~ survey ~ guest book ~ webrings ~ contact