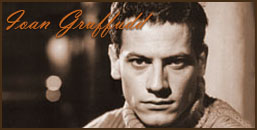 Ioan Gruffudd (Welsh) is best known to audiences for his portrayal of Horatio Hornblower in the UK television series of the same name. All that swashbuckling and period costume may lead you to believe that is the only reason I have him listed here, but you'd be very wrong.
Hornblower could so easily have been a little trite. Luckily it was a British team who put the series together, so that already had it out of the danger zone, but the casting of Ioan was the masterstroke that gave this series integrity and strength.
Yes, Robert Lindsay also has a lot to do with the depth and weightiness of this work (and I intend to add his profile to the site in the near future), but the lead role of Horatio, who has to age from 17 to twenty-something over the various series installments, needed someone who could hold their own with Robert. as well as bring a sense of honesty and realism to the role. Ioan doesn't disappoint.
His commitment to the part is obvious. He gives the character a true sense of realism and compassion, as well as honour and integrity. Not an easy mix to achieve. He doesn't rely on the costume to give the role a sense of authority or adventure - he embodies it instead.
One of Ioan's biggest assets is his eyes. The eyes are the windows to the soul and the camera never misses a trick. His complete honesty in the part, his believeablity, comes from his own belief in the part and the setting and circumstances. This is a tribute to his dedication to his craft, as you never feel you are watching someone who is "going through the motions", he is always fully present and his presence is therefore impossible to ignore.
He is beautiful, not just because of how he looks, but because his beauty comes from within. And that is true beauty.
As an actor: His compassion, his generosity, his presence, his intensity.
As a person: His enthusiasm, his enjoyment of what he does.
Actor Filmography
This Girl's Life (2003) (post-production) .... Daniel
Hornblower: Duty (2003) (TV) .... Horatio Hornblower
Hornblower: Loyalty (2003) (TV) .... Commander Horatio Hornblower
Gathering, The (2002) .... Dan
"Forsyte Saga, The" (2002) (mini) TV Series .... Phillip Bosinney
Man and Boy (2002) (TV) .... Harry Silver
Black Hawk Down (2001) .... John Beales
Hornblower: Retribution (2001) (TV) .... 3rd Lt. Horatio Hornblower
Hornblower: Mutiny (2001) (TV) .... 3rd Lt. Horatio Hornblower
Happy Now (2001) .... Max Bracchi
Very Annie Mary (2001) .... Hob
Another Life (2001) .... Freddy Bywaters
102 Dalmatians (2000) .... Kevin Sheperd
Miracle Maker, The (2000) (TV) .... Voice of Jesus (in Welsh version. Welsh title: Gwr y Gwyrthiau)
Shooters (2000) .... Freddy Guns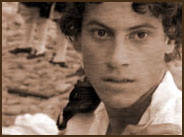 Warriors (1999) (TV) .... Lt. John Feeley
"Love in the 21st Century" (1999) TV Series .... Jack (episode "Masturbation")
Solomon and Gaenor (1999) .... Solomon Levinsky
Great Expectations (1999) (TV) .... Pip
Hornblower: The Frogs and the Lobsters (1999) (TV) .... Horatio
Hornblower: The Duchess and the Devil (1999) (TV) .... Hornblower
Hornblower: The Examination for Lieutenant (1998) (TV) .... Acting Lt. Horatio Hornblower
Hornblower: The Even Chance (1998) (TV) .... Midshipman Horatio Hornblower
Titanic (1997) .... Fifth Officer Harold Godfrey Lowe
Wilde (1997) .... John Gray
Poldark (1996) (TV) .... Jeremy Poldark
Relative Stranger, A (1995) (TV) .... Nigel Fraiman
"Pobol y Cwm" (1974) TV Series .... Gareth Wyn Harries (1987-1994)
Notable TV Guest Appearances
"Priory, The" (1999) playing "Himself" (episode # 1.6) 14 December 1999
"Star Secrets" (1999) playing "Himself"
"Mind to Kill, A" (1994) playing "Karl Stranger" in episode: "Strange Territory" (episode # 2.6) 1996
http://us.imdb.com/Name?Gruffudd,+Ioan (his listing on the IMDB)
Title photo copyright © GQ Magazine
Hornblower photo copyright © ITV/A&E Network
<< ACTORS LIST
intro
~ why? ~ the actors ~ faq ~ what's new ~ links ~ search
awards ~ survey ~ guest book ~ webrings ~ contact