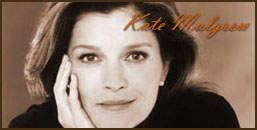 Kate Mulgrew (American) is best known to international audiences as being the first female Federation starship captain in her role of "Captain Kathryn Janeway" in the sci-fi television series Star Trek: Voyager. But her background is firmly in theatre, with several performances on and off Broadway, including her current role as "Katherine Hepburn" in the one woman play Tea At Five.
She has worked extensively in television for many years, putting in an appearance in many of the popular 1980 and early 1990 television series. I, like many others, became aware of her from her work on Star Trek a couple of years ago. Not being a fan of the series, I found myself channel surfing one night, when the unmistakable Star Trek uniforms and com badges appeared on my screen. I was about to switch channels again when an actress walked into the scene that stopped me in my tracks.
She was strong and determined, totally believable in a very unrealistic setting and got me immediately hooked with her delivery and presence. So began my fascination with Captain Kathryn Janeway and the woman behind her - Kate Mulgrew.
Kate has a great strength that fits the role of Captain perfectly. She is commanding and makes no apologies. She is also not your flash-in-the-pan nubile young thing, and her maturity and sense of self makes her one of the most beautiful actors I have seen on this series.
She has that indefinable quality that makes her eternally beautiful. Warmth, a sense of fun and a sense of experience that makes her beauty more than skin deep - and therefore all the more lasting.
As an actor: Her strength, her warmth and generosity, her charisma.
As a person: Her work with disadvantaged and terminally ill children, her support of charities.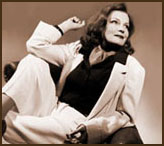 Actor Filmography
Star Trek: Borg Encounter (2003) .... Admiral Janeway
Star Trek: Nemesis (2002) .... Admiral Kathryn Janeway
Run Like Hell (2002) (VG) (Voice) .... Dr. Mek
Riddler's Moon (1998) (TV) .... Victoria Riddler
Captain Nuke and the Bomber Boys (1995) .... Mrs. Pescoe
"Star Trek: Voyager" (1995) TV Series .... Kathryn Janeway
Star Trek: Voyager - Caretaker (1995) (TV) .... Kathryn 'Kathy' Janeway
"Gargoyles" (1994) TV Series (voice) .... Queen Titania/Anastasia Renard
Camp Nowhere (1994) .... Rachel Prescott
For Love and Glory (1993) (TV) .... Antonia Doyle
Round Numbers (1992) .... Judith Schweitzer
Fatal Friendship (1991) (TV) .... Sue Bradley
Daddy (1991) (TV) .... Sarah Watson
"Man of the People" (1991) TV Series .... Mayor Lisbeth Chardin
Heartbeat (1988) (TV) .... Dr. Joanne Springsteen/Halloran
Roots: The Gift (1988) (TV) .... Hattie
"Heartbeat" (1988) TV Series .... Dr. Joanne Springsteen/Joanne Holloran
Throw Momma from the Train (1987) .... Margaret Donner
Roses Are for the Rich (1987) (TV) .... Kendall Murphy
Carly Mills (1986) (TV) .... Carly Mills
My Town (1986) (TV) .... Laura Adams
Remo Williams: The Adventure Begins (1985) .... Maj. Rayner Fleming
Stranger Is Watching, A (1982) .... Sharon Martin
"Manions of America, The" (1981) (mini) TV Series .... Rachel Clement
Time for Miracles, A (1980) (TV) .... Mother Elizabeth Bayley Seton
Lovespell (1979) .... Iseult
Jennifer: A Woman's Story (1979) (TV) .... Joan Russell
"Kate Loves a Mystery" (1979) TV Series .... Kate Columbo/Callahan
Kate Loves a Mystery (1979) (TV) .... Kate Columbo
"Word, The" (1978) (mini) TV Series .... Tony Nicholson
American Woman: Portraits of Courage, The (1976) (TV) .... Deborah Sampson
"Ryan's Hope" (1975) TV Series .... Mary Ryan Fenelli #1 (1975-1978, 1983, 1986, 1989) (original cast)
"Alien Lover" (1975) TV Series .... Susan
Notable TV Guest Appearances
"Late Late Show with Craig Kilborn, The" (1999) playing "Herself" 18 May 2001
"Late Late Show with Craig Kilborn, The" (1999) playing "Herself" 15 August 2000
"Batman: The Animated Series" (1992) playing "Red Claw" in episode: "The Lion and the Unicorn" (episode # 1.85) 15 September 1995
"Aladdin" (1993/I) playing "Queen Hippsodeth" (voice) in episode: "From Hippsodeth, With Love" (episode # 1.63) 30 November 1994
"Aladdin" (1993/I) playing "Queen Hippsodeth" (voice) in episode: "A Sultan Worth His Salt" (episode # 2.10) 19 November 1994
"Murder, She Wrote" (1984) playing "Maude Gillis" in episode: "The Dying Game" (episode # 10.17) 13 March 1994
"Batman: The Animated Series" (1992) playing "Red Claw" in episode: "The Cat and the Claw: Part 2" (episode # 1.8) 12 September 1992
"Batman: The Animated Series" (1992) playing "Red Claw" in episode: "The Cat and the Claw: Part 1" (episode # 1.1) 5 September 1992
"Murphy Brown" (1988) playing "Hillary" in episode: "On the Rocks" (episode # 4.2) 4 May 1992
"Murder, She Wrote" (1984) playing "Joanna Rollins" in episode: "Ever After" (episode # 8.16) 8 March 1992
"Hotel" (1983) playing "Leslie Chase" in episode: "Reservations" (episode # 5.3) 24 October 1987
"Murder, She Wrote" (1984) playing "Sonny Greer" in episode: "The Corpse Flew First Class" (episode # 3.12) 18 January 1987
"Cheers" (1982) playing "Janet Eldridge" in episode: "Strange Bedfellows: Part 1" (episode # 4.24) 1 May 1986, "Strange Bedfellows: Part 3" (episode # 4.26) 15 May 1986 & "Strange Bedfellows: Part 2" (episode # 4.25) 8 May 1986
"St. Elsewhere" (1982) playing "Helen O'Casey" in episode: "Time Heals: Part 1" (episode # 4.17) 19 February 1986 & "Time Heals: Part 2" (episode # 4.18) 20 February 1986
"Dallas" (1978) playing "Garnet McGee" in episode: "Triangle" (episode # 2.16) 26 November 1978
http://www.totallykate.com/ (her official site)
http://us.imdb.com/Name?Mulgrew,+Kate (her listing on the IMDB)


Kate Mulgrew sites at Celebrity Link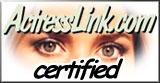 Kate Mulgrew sites at Celebrity Link
<< ACTORS LIST

intro
~ why? ~ the actors ~ faq ~ what's new ~ links ~ search
awards ~ survey ~ guest book ~ webrings ~ contact