Alisen Down (Canadian) may not be a household name right now, but she soon will be. She has already gained strong attention as the sarcastic, deadpan and very quirky assistant, Miranda, in Mysterious Ways, opposite Adrian Pasdar.
Alisen has always had a love of acting, which began in her childhood, when she would perform skits in front of her family's collection of pets. Once she finished high school, she went on to study at the American Academy of Dramatic Arts in California and then moved to England to continue her studies at the British American Dramatic Academy in Oxford.
Alisen brings a mystery to her work, which constantly invites you to keep watching her. She displays great strength, and presence, and depth.
Alisen's intelligence in the role of "Miranda" was what first caught my attention. Her comic timing was the next thing I noticed, then her ability to be vulnerable on screen. She is beautiful to watch, not least of which is due to her brilliant acting talent.
As an actor: Her quirkiness, her ability to take emotional risks, her willingness to be "ugly", her intelligence.
As a person: Her dedication to her chosen craft, her ambition, her love of animals.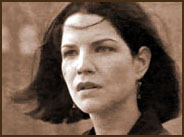 Actress Filmography
Good Burn, A (2000) .... Chet
"Mysterious Ways" (2000) TV Series .... Miranda
Late Night Sessions (1999) .... Candy
Bad Money (1999) .... Sylvia
Notable TV Guest Appearances
"Dead Zone, The" (2002) playing "'Young' Rosie O'Halloran" in episode: "Enigma" (episode # 1.4) 7 July 2002
"Da Vinci's Inquest" (1998) playing "Ruby" in episode: "Bang Like That" (episode # 2.11) 5 January 2000
"Cold Squad" (1998) playing "Anita Dunn" in episode: "Deadbeat Walking" (episode # 3.5) 19 November 1999
"Da Vinci's Inquest" (1998) playing "Adelle Corbett" in episode: "The Quality of Mercy" (episode # 1.4) 28 October 1998
http://us.imdb.com/Name?Down,+Alisen (her listing on the IMDB)
http://www.pax.tv/shows/mystways/ (official Mysterious Ways site)


Alisen Down sites at Celebrity Link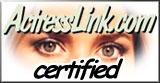 Alisen Down sites at ActressLink.com
Photos copyright © Paxson Communications Corporation
<< ACTORS LIST

intro
~ why? ~ the actors ~ faq ~ what's new ~ links ~ search
awards ~ survey ~ guest book ~ webrings ~ contact